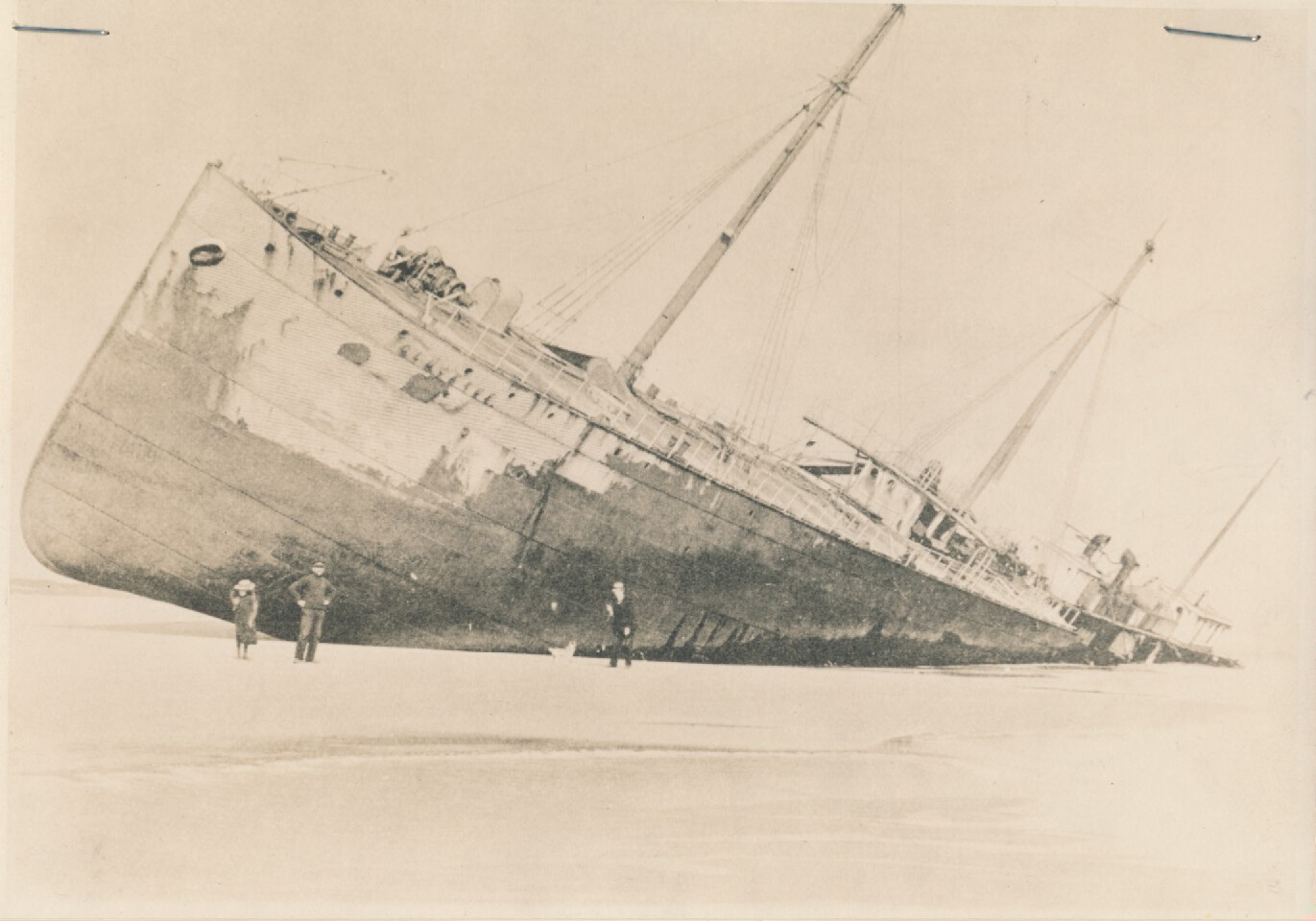 Books
Direct Sources:

Histories or Directories of Individual or Multiple Shipwrecks or Strandings

Indirect Sources

Biographies and Genealogies
Books on L.I. Lighthouses
Books on Major Storms, Hurricanes, or Blizzards of the Past
Books on the U.S. Lifesaving Service & U.S. Coast Guard
Books on Scuba Diving (that include shipwrecks)
Books on the various bodies of water surrounding L.I., and on the marine ecology or geology of the area that may refer to shipwrecks
Books on L.I.'s involvement in various wars, that may identify resultant sinkings of friendly or enemy vessels (whether warships, merchant marine, or privately-owned)
Official US, NYS, and Foreign Naval and Marine records, e.g.:

Dictionary of American Naval Fighting Ships (includes occasional shipwrecks of vessels associated in some way with L.I.; which must often first be determined from other sources; whether the ship associated with L.I. was sunk in L.I. waters or elsewhere around the world, e.g.: HMS Culloden, USS Monitor, USS Montauk, USS San Diego, USS Long Island
Naval Documents of the American Revolution
Naval Documents of the War of 1812
Directories, Biographical sources, Official Reports
U.S. Navy. Ships History Branch
NYS Library, Archives, Museum [Excelsior Catalog]
Historic Images
Drawn from various sources
Periodicals
Maps
Showing the location of the shipwreck, and/or the path that the ship took to its final resting place
Showing various naval engagements in which the ship participated and sinkings (e.g., L.I.ers were aboard the USS Hartford, Farragut's flagship at the battles forcing passage to New Orleans (1862) and Mobile Bay (1864); the ironclad USS Monitor was built in Brooklyn.
Showing shipwrecks around L.I. or on a larger or world scale (involving ships associated with L.I.
Vertical Files
L.I. – Biography – Fuller, Margaret
L.I. - Fire Island – Shipwrecks
L.I. – Patchogue – History, 1850-1859 [Elizabeth – d. of Margaret Fuller]
L.I. – Patchogue – History,1895  [Louis V. Place and John B. Manning]
L.I. – Ships – Steamboats [General Slocum, Lexington]
L.I. – Shipwrecks – [subfiles mainly listed alphabetically, by individual shipwreck]**
** General & Multiple Wrecks ◊ Ada Rhame 1882 sloop ◊ Alice Reed 1902 bark ◊ Amethyst 1886 whaler ◊ Anahuac 1924 oil tank steamer ◊ Antonio Lopez 1909 ◊ Baldwin – 1961 destroyer ◊ Bay Queen 1901 sloop ◊ Beaumont schooner ◊ Bell Buoy see L.I. – Shipwrecks – Pelican ◊ Bessie A. White 1922 Canadian schooner ◊ Black Warrior 1859 steamer ◊ Bodo 1906 Norwegian schooner-steamer ◊ Brazil 1899 Berkentine ◊ Breeches Buoy ◊ Bristol Bark ◊ Carnegie 1909 schooner ◊ Chronology ◊ Circassian 1876 ◊ Commodore 1866 steamer ◊ Culloden, H.M.S. 1781 British 74-gun ship of the line ◊ Directories ◊ Drumelzier, H.M.S. 1904 British steamer ◊ Eli 1989 commercial fishing trawler ◊ Elizabeth 1850 bark lost near Point O'Woods, Margaret Fuller dies onboard ◊ Elmiranda 1894 ◊ Emma C. Overton 1616 schooner ◊ Emma Jane 1891 schooner ◊ Emma Titus 1915 schooner ◊ Franklin 1884 side-wheeler ◊ Gluckauf 1893 German steamer. grounded on Fire Is., opposite Patchogue ◊ Gowanburn 1907 steamer ◊ Gussie 1880 schooner 124 ◊ Gwendoline Steers 1963 tugboat ◊ Jim Steers 1958 tugboat ◊ Helen J. Halloway 1876 three-masted schooner ◊ Hickman 1881 schooner ◊ Howard B. Peck three-masted schooner ◊ Independence 1883 Italian steamship ◊ Jesse Carll 1889 schooner ◊ John Adams 1826 ◊ John B. Manning 1895 schooner ◊ Julia 1884 schooner ◊ Lamington 1896 British steamer ◊ Land Pirates ◊ Larchmont 1907 steamer ◊ Legionnaire, S.S. 1943 ◊ Lexington 1840 steamboat ◊ Louis Philippe 1842 French packet steamer ◊ Louise H. Randall 1893 schooner ◊ Louis V. Place 1895 schooner ◊ Madge Schuts 1882 sloop ◊ Margaretha 1882 German cargo ship ◊ Mexico 1837 ◊ Mildred 1912 ◊ Miles Mercy 1909 four-masted schooner ◊ Money Ship 1816 unidentified East End mystery ◊ Monuments Rockaway monument, see Louis V. Place for Patchogue monument ◊ Nahum Chapin 1897 schooner ◊ Northern Pacific 1919 luxury liner ◊ Oregon 1896 luxury liner ◊ Otter 1891 schooner ◊ Pelican 1951 fishing boat ◊ Persian 1859 ◊ Peter Richmers 1908 four-masted square rigger ◊ Princzess Irene three-masted schooner ◊ Prins Maurits 1657 LI's first recorded shipwreck (near today's Saltaire) ◊ Puritan 1908 Scottish schooner ◊ Republic 1909 luxury liner sunk off Nantucket ◊ Roda 1908 steamer ◊ Rosina 1871 bark ◊ Rye Cliff 1918 paddlewheel steam ferry, formerly the General Knox ◊ San Diego 1918 armored cruiser sunk in WWI by German U-boat ◊ Savannah 1819 hybrid steamship/sailing packet ◊ Sea Lark 1860 schooner ◊ Seawanhaka 1880 steamer ◊ Scotia 1887 steamship ◊ Slocum 1904 steamship ◊ Student Prince Nova Scotia schooner ◊ Sylph 1815 British sloop-of-war ◊ Swallow 1909 fishing schooner ◊ Texas 1996 oil barge ◊ Thomas, S.M. 1885 three-masted schooner ◊ Vermillion 1877 schooner ◊ Vincente Bonano 1906 Italian freighter ◊ Wreck Divers ◊ Wreckmasters ◊ Yankee 1919 [aka G&D German Great Lakes freighter]
L.I. – United States Lifesaving Service [+ 9 subheadings]
Local History Website
Indirect References:

Many of the subpages of the NYS History and LI History web pages and L.I. County, Village, and Outer Island Histories may contain references to shipwrecks