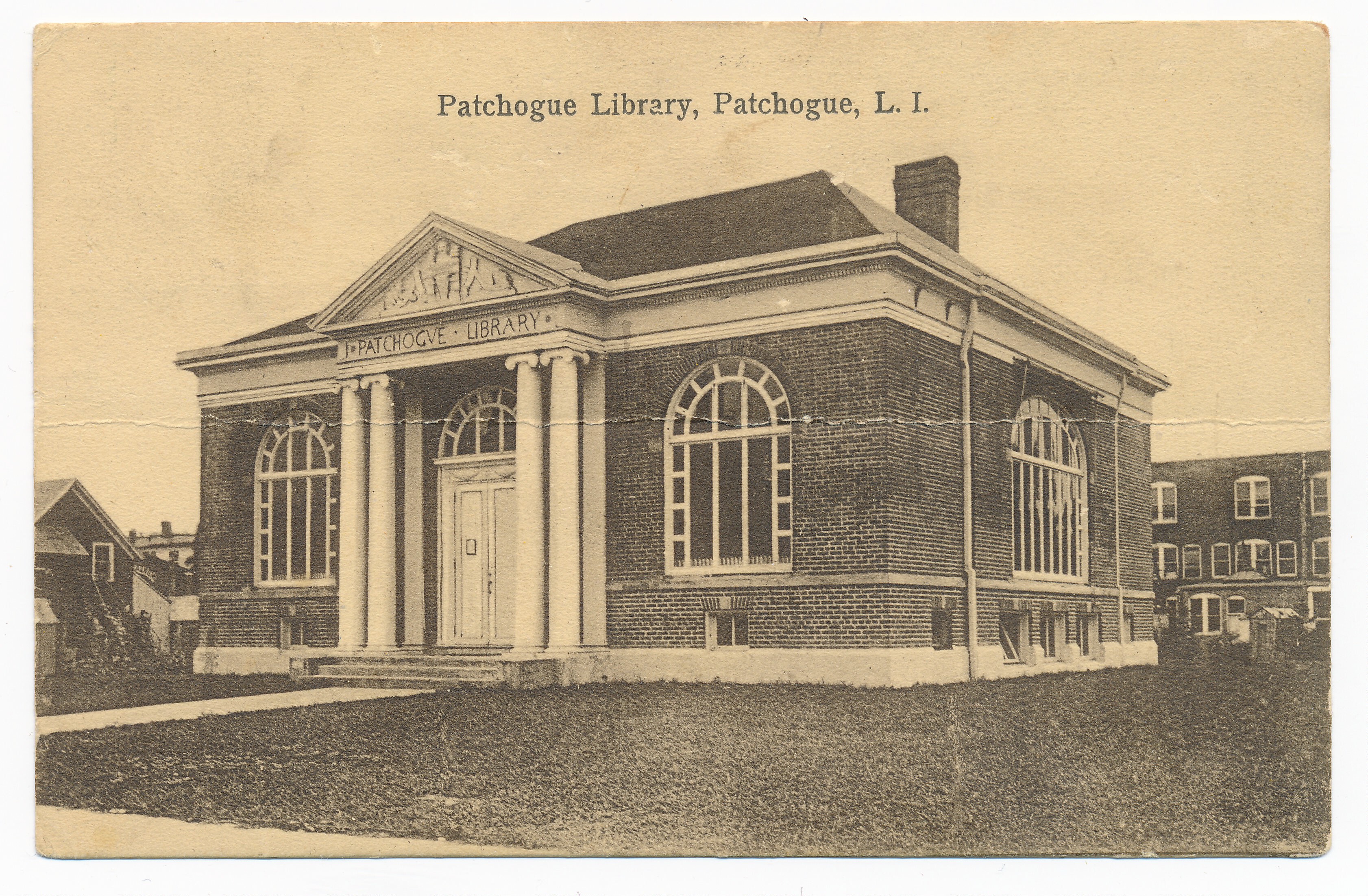 On land donated by Edwin F. Bailey and with construction funds provided by Andrew Carnegie, the Patchogue Library opened in March of 1908.
The original building (50 feet 6 inches by 45 feet 9 inches) was approximately 2,300 square feet, and was designed by John Vredenburgh Van Pelt in the neoclassical style. Van Pelt trained in Paris and designed several well known buildings throughout his career, including the Patchogue Post Office, the Nippon Club, Guardian Angel Church in Manhattan and the Gennadius Library in Athens, Greece.
The building was in use as a library until 1981, when the then Patchogue-Medford Library, relocated to Main Street in Patchogue. The building was also the home of Briarcliffe College for a number of years.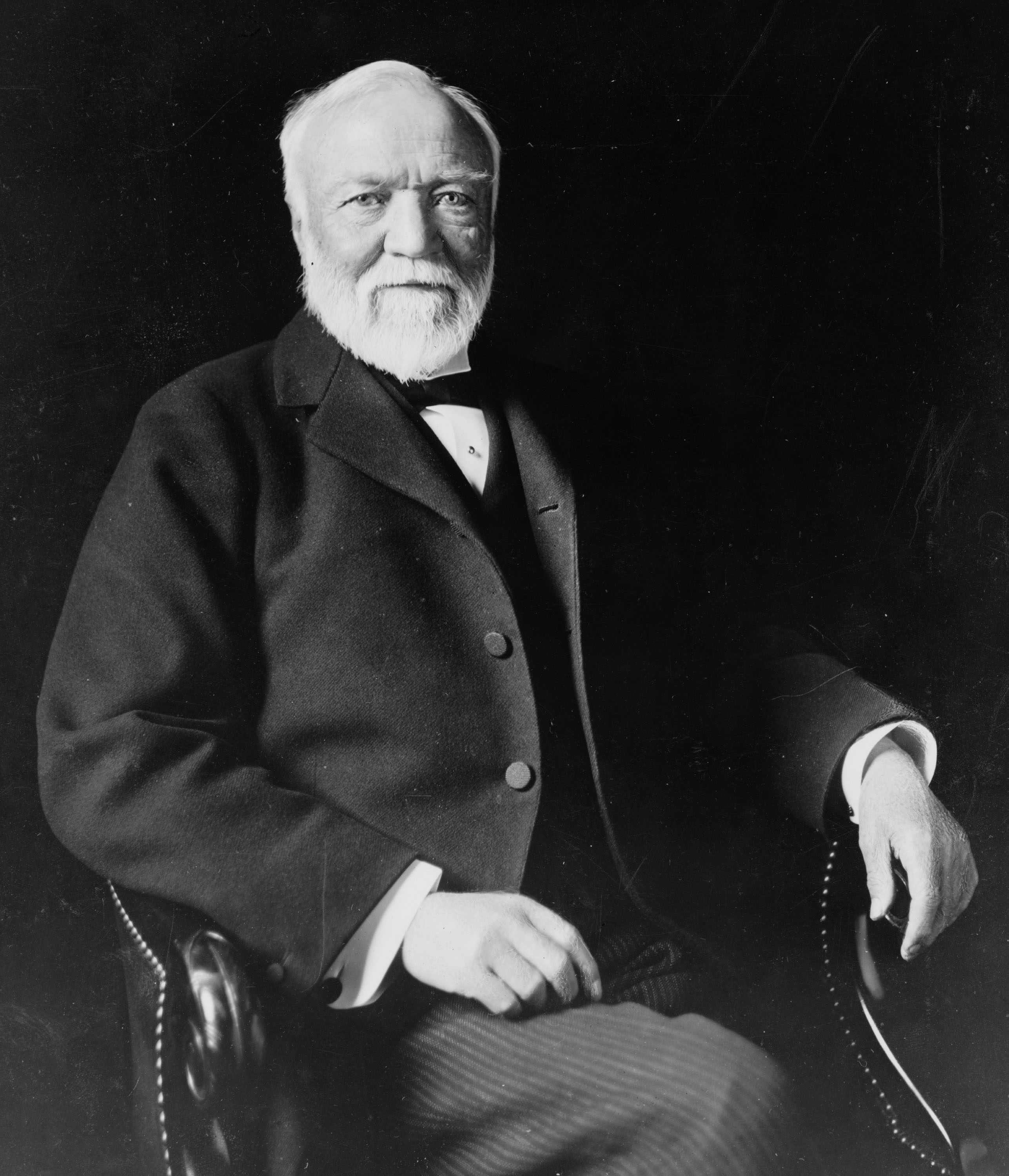 Andrew Carnegie, one of America's most famous immigrants, went from rags to riches as a self-made man who became a captain of industry and the king of steel.
Carnegie was born in Scotland in 1835 and emigrated to the United States with his family in 1848 to Allegheny, Pennsylvania. At the age of 13, Andrew began his career as a bobbin boy in a cotton factory. He then moved from being a Western Union messenger boy to telegraph operator and then to a series of positions leading to the superintendent of the Western Division of the Pennsylvania Railroad.
While employed by the Railroad, Carnegie invested in a new company to manufacture railway sleeping cars. His business ventures expanded to include building of bridges, locomotives and rails. In 1865 he organized his first of many companies - the Keystone Bridge Company, and in 1873, the first of his steel works.
His steel company prospered, and when Carnegie sold the company to J.P. Morgan in 1901, the Carnegie Company was valued at more than $400 million.
When Carnegie retired in 1901 he set about distributing his fortune. He is best known for his gifts of free public library buildings. His first gift was to his native Dunfermline, Scotland in 1881, and it was followed by similar gifts to over 2,500 communities throughout the world.
In addition to libraries, he donated hundreds of church organs to local communities and his wealth helped to establish numerous colleges, schools, nonprofit organizations and associations both in his adopted country and throughout the globe. His most significant contribution, both in terms of money and in terms of enduring influence, was the establishment of several endowed trusts bearing his name.
By the time of his death in 1919, Andrew Carnegie had given away about $350 million.
The Carnegie-built libraries dot the landscape ofNewYork. Of the 106 libraries funded and built, 66 of them are in New York City, with the remainder spread across the state.
In addition to the Patchogue Library, there were two other Carnegie-built libraries on Long Island, neither of which is in use as a library today
Northport Library- currently housing the Northport Historical Society at 215 Main Street in Northport.
Rockville Centre Library - currently an office building at 12 Clinton Avenue in Rockville Centre.
The following are still in use as library buildings
Amsterdam Free Library, Amsterdam NY
Andover Free Library, Andover, NY
Black Watch Memorial Library, Ticonderoga, NY
Blount Library, Franklinville, NY
Bolivar Free Library, Bolivar, NY
Broome County Public Library, Binghamton, NY
Canastota Library, Canastota, NY
Catskill Public Library, Catskill, NY
Chatham Public Library, Chatham, NY
Dunkirk Public Library, Dunkirk, NY
Fulton Public Library, Fulton, NY
Steele Memorial Library, Elmira, NY
Gloversville Public Library, Gloversville, NY
Hornell Public Library, Hornell, NY
Johnstown Public Library, Johnstown, NY
Kingston Public Library, Kingston, NY
Lackawanna Public Library, Lackawanna, NY
Mt. Vernon Public Library, Mount Vernon, NY
Nyack Library, Nyack, NY
Penn Yan Public Library, Penn Yan, NY
Perry Public Library, Perry, NY
Port Jervis Library, Port Jervis, NY
Saugerties Public Library, Saugerties, NY
Solvay Public Library, Solvay, NY
Theresa Free Library, Theresa, NY
Warsaw Public Library, Warsaw, NY
The following communities also received funds from Carnegie, but the buildings are now either razed or repurposed
Hamburg Library - razed
Niagara Falls - currently in use as city offices
New Rochelle - currently offices
North Tonawanda - currently in use as an art gallery
Olean - currently a restaurant
Ossining - razed
Salamanca Public Library, Salamanca, NY
Schenectady Library - now college dormitory
Syracuse Public Library - currently the Syracuse Renaissance Academy
White Plains Public Library - razed
Yonkers Public Library- razed
There is not such a cradle of democracy upon the earth as the Free Public Library, this republic of letters, where neither rank, office, nor wealth receives the slightest consideration.
-Andrew Carnegie