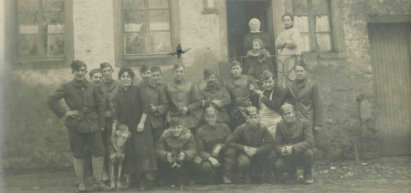 This is a valuable public record of a locale's (the Patchogue area of Long Island, N.Y.'s) military participation in the First World War. Following the Armistice (11/11/1918), a short, 9-point survey was sent to veterans. Responses were returned well before official U.S. declarations of peace (8/24-25/1921). While the experiences recounted may not be entirely unique to the world, at large, they (and photo portraits) are unique to the individual, inform family history and are of community interest, and reflect participation in matters of local, regional, state, national, and international significance. Here, you'll find 225 named individuals, represented by 319 searchable records, digitized, transcribed, with added notes and related links, made generally available to the public for the first time since they were created, bound in a scrapbook, part of a larger survey.
U.S. allocation of forces, logistics, supply, ordinance, camp life, training, individual experiences of war on land, at sea, in the air, in major and minor campaigns, battles, skirmishes, sectors, or entertaining the troops, enemy propaganda "psyops", scientific advances (e.g., from wireless radio to chemical warfare), General Pershing's presence, incorporation of American units in Allied forces all figure here. The Mexican-American border, Canada, the United Kingdom, France, Italy, Belgium, Luxemburg, Germany, Russia, Spain, and Portugal are represented in the accounts. Infantry, cavalry, artillery, engineers, the medical corps, quartermaster corps, army and navy aviators, those serving in many other capacities are featured, rendering this a rich source for future research and interpretation.
The surveys were completed directly by veterans (or, in a few cases, by a relative). They range from civilian contractors, to students, entertainers, enlisted men, non-com's to officers of various ranks, and recount wounds, gassings, survival of and witness to ship collisions and sinkings, trench and aerial warfare, heroism, decorations, medals, promotions: where and how they served. It also bears on the home front, implicit or explicit psychological dimensions of the war, as well as the loss of friends, comrades-in-arms, and shipmates. Some served at sea in the merchant marine, in transports, or warships, in the Atlantic, Mediterranean, North Sea, Arctic, and elsewhere. Some served on the Western Front, in Italy, or in the Allied Intervention in Russia. Still others never left the U.S. Two respondents record their presence at the horrific explosion that leveled much of downtown Halifax (Dec. 6, 1917), bearing on Canadian and Nova Scotia history. The range of experience and response alone is worthy of an invitation to study.
Database creation, modification, and fine tuning by Gary Lutz
Digitization, transcription, added notes, related links, data input, by Mark Rothenberg
The pages of the survey scrapbook, as it originally appeared, with its frequently overlapping items, may be viewed, in 3 parts, by clicking below:

Records of Men from Patchogue Who Took Part in the World War, Part One
Records of Men from Patchogue Who Took Part in the World War, Part Two
Records of Men from Patchogue Who Took Part in the World War, Part Three